TargetRx's next-generation ALK inhibitor for NSCLC has been cleared for clinical trials in China
On December 17, 2020, TGRX-326, a next-generation ALK/ROS1 dual inhibitor independently developed by Shenzhen TargetRx Inc., has officially obtained the clinical trial notification issued by the Center for Drug Evaluation (CDE) of the National Medical Products Administration (NMPA) (acceptance no.: CXHL2000531, CXHL2000532) to commence clinical trials.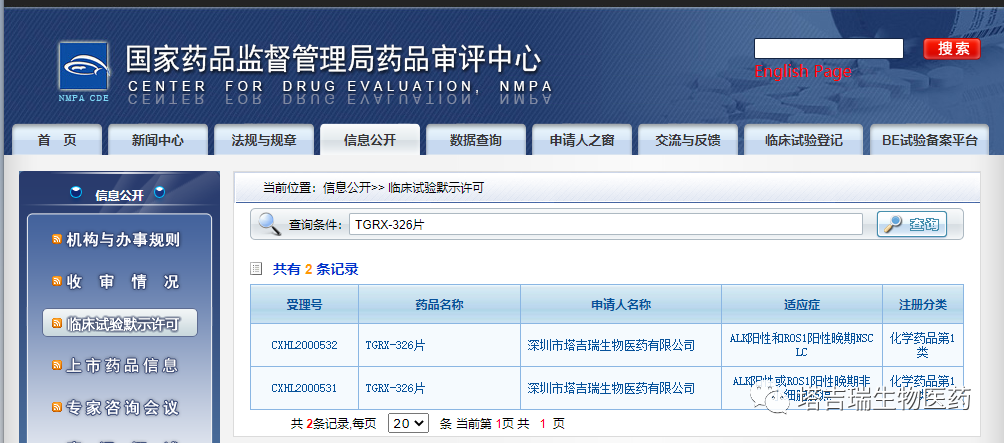 Source: official website of the Center for Drug Evaluation of the National Medical Products Administration
TGRX-326 is a potent and highly selective third-generation anaplastic lymphoma kinase (ALK) inhibitor targeting the EML4-ALK fusion gene, which is used to treat non-small cell lung cancer (NSCLC) with ALK gene mutations, especially NSCLC with ALKG1202R mutation that confers resistance to the first- and second-generation drugs, and it can penetrate the blood-brain barrier, so it is expected to be effective for advanced lung cancer patients with brain metastases. Meanwhile, it has specific biological activity against ROS1 kinase, so it can be used to treat ROS1-positive NSCLC.
Prior to this, the fourth-generation Bcr-Abl inhibitor TGRX-678 independently developed by TargetRx was also granted clinical trial permission (acceptance number: CXHL2000158, CXHL2000159) by CDE. TGRX-326 and TGRX-678 will carry out the first-in-human (FIH) trial together in early 2021. At the same time, the company's other innovative targeted drug product pipelines are also actively advancing.